Do You Use Coconut Oil to Hair? Meet the Most Popular Cosmetics with Coconut
The most popular hair oil that many women reach for, about which we know the most, and the one that is recommended at the beginning of everybody's hair oiling journey. Obviously, it's no other oil but coconut oil. Indeed, it's worth using cosmetics with coconut additives to take a tender care of hair and more. Let's remind you the features of coconut oil and present the most beloved products with coconut in their composition.
Although most people know the way in which coconut oil is obtained, let's reveal the secret to those who still aren't familiar with this technique. First of all, coconut oil isn't obtained directly from the seeds, nuts or fruit. The process of manufacturing of coconut cosmetics requires a substance called coconut copra, which is the white flesh located inside the coconut shell. Obviously, coconut oil that wasn't cold-pressed is considered as the most beneficial when having the cosmetic purposes in mind. The truth is, you can also reach for the refined version of coconut oil, the one used for cooking, yet this substance has a little bit less nourishing substances than the non-refined version.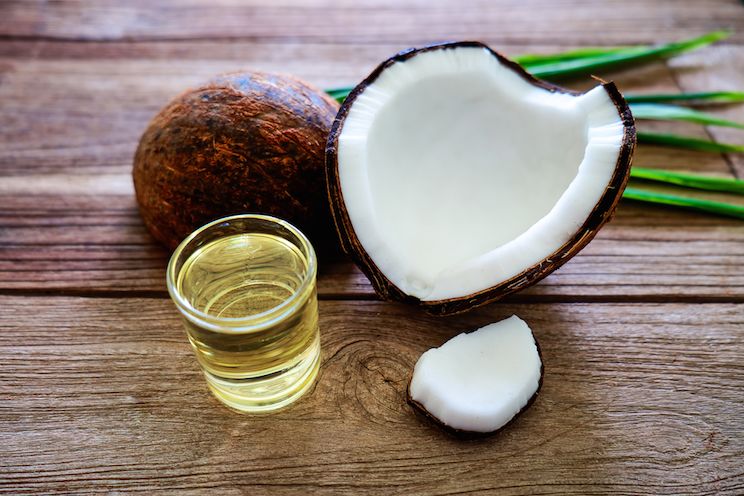 Coconut Oil – The Key Features
» It contains a unique combination of saturated and unsaturated (omega-9 and omega-6) fatty acids thanks to which the oil is widely recognized as a medical and conditioning substance. Lauric acid, which is considered as a very important substance of strengthening and antiseptic features, poses up to 55% of coconut oil. Also, oleic acid that is considered as important in the field of body care poses approximately 12% of the coconut oil.
» It's true that coconut oil hydrates hair and dermis. However, this information is a little bit distorted as many people match these moistening features with coconut oil. The facts report that coconut oil does moisten but only indirectly since it's an emollient that prevents water loss.
» What's interesting, natural coconut oil includes sunscreens and can be used as an individual UV filter. Its action can be compared with a SPF 10 sunscreen.
» Coconut oil affects hair in a positive way not only due to its eveporation-resistant feature. The molecules of lauric acid from coconut are very similar in structure to proteins that make up human hair. For that reason, there are perfect at adjustng themselves to hair structure and penetrating deep into the strands. Thanks to this, coconut oil is known for its hair regenerative, strengthening and rebuilding action.
Coconut Oil and Hair Porosity
It can't be denied that coconut oil is successfully used for defining hair porosity level. Actually, if we want to learn how porous our hair is, we can apply one of the most popular methods. Namely, we can perform the water test revealing the speed at which hair absorbs moisture, or just get hair examined at a trichologist's. However, the level of hair porosity can be checked thanks to coconut oil. How to do the test?
1. Take a bit of coconut oil and massage it into the hair.
2. Let it sit for at least a half of an hour (alike hair oiling).
3. Remove the oil from the hair and check out the outcome.
If the coconut oil makes hair smooth, let it gain more body, becomes smooth and more elastic, then it's highly possible your hair is of low porosity. However, if your hair reaction is completely different, so if the strands become frizzy, stiff and hard to detangle, then your hair is either of medium or high porosity (it depends how bad the outcome is). Indeed, a plain and fast method.
TOP HAIR PRODUCTS CONTAINING COCONUT OIL
For the hair's sake, it's worth giving a go to at least one of the cosmetic propositions mentioned below. Even when the pure coconut oil itself makes your hair frizzy then probably when combined with other oils it can turn out to be highly beneficial for your strands. Learn our propositions and see for yourself that coconut oil can be a surprisingly universal product.
Innovative HAIR OIL Nanoil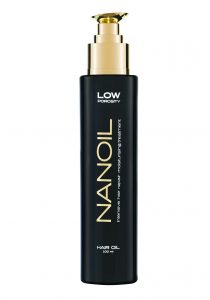 Nanoil hair oil is the finest composition of vegetable oils and natural hair care substances that are different in each of three versions of the product. The thing that connects all Nanoil hair oils is the innovative approach towards hair care (matching hair structure), effectiveness and the captivating fragrance. In the product you can find Argan Oil, Maracuja Oil, UV filter, vegetable extracts (baicapil), hair growth accelerating ingredients (kerastim) and anti-oxygenating vitamin E. But still, this isn't all! Nanoil is a combination of 6 or 9 different oils (also coconut) and a similar number of substances that intensify the oils' performance. All the details concerning Nanoil can be found on the official website of the product.
As mentioned above, Nanoil is available in three versions designed for various hair porosity types, which are low (hair that is resistant to styling, heavy, without volume), medium (frizzy hair, weakened, dry, dull) and high (damaged hair, dehydrated, thinning, brittle, with split ends).
Action: Nanoil hair oil controls the level of monetarization and nourishment as it accelerates hair growth. Moreover, it positively affects the scalp and hair bulbs that become visibly stronger (hair stops falling out). It regenerates by rebuilding the inner and outer damages. What's more, Nanoil protects hair against damages that were triggered by being exposed to, for example, the sun or extreme temperatures. It gifts hair with amazingly beautiful look since Nanoil smooths, adds flexibility, softness and gloss to the hair. Also, the hair oil facilitates hair styling, fixes the obtained effects and tames unruly hair.
HAIR MIST Philip B. Maui Wowie Beach Mist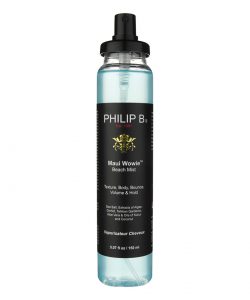 Maui Wowie Beach Mist is a sensual combination of real orchid aroma and Tahitian Gardenia the extracts of which were blended with algae extract, aloe leaf extract, coconut oil and a little bit less known kukui oil. This product doesn't contain parabens. This mixture of natural substances with sea salt makes Philip B. hair mist lightweight.
Action: Philip B. Maui Wowie Beach Mist is a fixing hair mist that adds volume and flexibility as well as it makes styling easier. It strengthens hair and, what's most important, brings out the natural curl of hair.
HAIR OIL Dove Pure Care Dry Oil Nourishing Treatment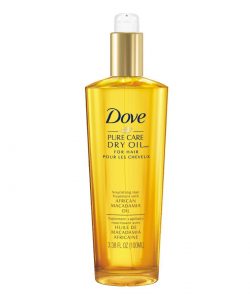 Pure Care Dry Oil Nourishing Treatment is a light oil including African Macadamia Oil and Coconut Oil. The product is designed for all hair types. Obviously, this cosmetic contains more precious substances such as Sweet Almond Oil, Palm Oil, Sunflower Oil and Pomegranate Seed Oil. Sadly, this cosmetic also includes silicones and mineral oil (paraffin).
Action: Dove Pure Care Dry Oil works the most effectively on washed and damp hair. When applied right after drying, hair becomes soft, silky smooth, shiny and prone to styling. It's a decent hair care oil.
HAIR STYLING SPRAY: Bumble and Bumble Surf Foam Spray Blow Dry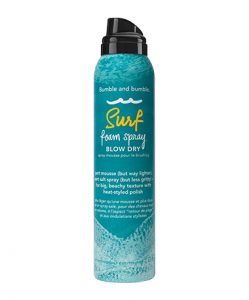 Surf Foam Spray Blow Dry is an interesting combination of protective substances (UVA/UVB filters) with moisturizing and natural substances extracted from coconuts. This a hair styling spray is lighter than a typical hair mousse and more delicate than other hair fixing products. It's recommended for thin or normal hair.
Action: Bumble and Bumble Surf Foam Spray Blow Dry is a product that brings out the beachy weaves, adds volume by rising hair up at their roots and protects against the adverse action of the sun. It works best when exposed to heat (for example, the hot air generated by a blow-dryer).
SHAMPOO AND CONDITIONER Kiehl's Amino Acid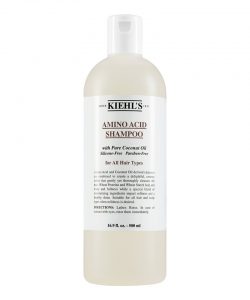 Kiehl's Amino Acid is a set of two the most important hair care products. The delicate, silicone-free conditioner contains amino acids, Coconut Oil and Jojoba Oil. This creamy formula is designed for daily use. When it comes to the well-foaming shampoo, it's also a combination of coconut oil and amino acids with wheat proteins.
Action: Kiehl's Amino Acid Conditioner helps maintaining the natural level of hair hydration, strengthens it and facilitates styling without overburdening. The hair becomes more shiny and soft. Kiehl's Amino Acid Shampoo works alike, yet, most of all, it cleanses hair and the scalp precisely.